---
---
Details:
Be ready for a Revolution of photo and video. With

Flexible Selfie Stick

® every place is best suited to capture your life. Whether you are a traveler, athlete or blogger – this selfie stick is a game changer!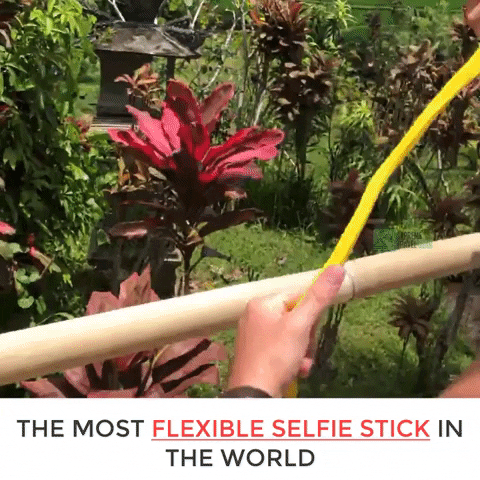 Bluetooth Remote Control!



From now on a Bluetooth remote is included as standard in the packaging of our product. This way you will be able to take photos or videos with your phone even from greater distances.
Solo travelers rejoice! Now you will be able to take photos or videos with your phone even from greater distance even when you are travelling alone. Fantastic for taking group shots with your family and friends as well.  
Compatible with iPhones & Android smartphones
Pairing your smartphone with the Bluetooth remote is really simple
Step 1 : Turn the switch on the side of the remote control - off to on . 
Step 2:  Go to your phone's Bluetooth settings. 
Step 3:  Connect to the device " AB Shutter3 ". This is the name of the Bluetooth remote control.
Step 4:  Now go into the camera mode of your mobile phone. Here you select now the desired format - photo or video. 
Step 5:  And now you're ready to go ! Click on the button corresponding to your mobile phone type to trigger the photo or start the video. If you're making a video, end the recording with a second click on the same button. 
Universal use:
During the development of the Flexible Selfie Stick® it was important to us to provide an all-in-one solution. A gadget for all your devices. Whether Smartphone, GoPro or mini digital camera. All important attachments are included in the scope of delivery of the Flexible Selfie Stick® and can easily be unscrewed from the 1/4ʺ thread 1/4ʺ thread and changed.
360 Flexible & Bendable 
The non-slip hard rubber provides a perfect grip on all surfaces and objects. The flexible goose neck can be easily bent, shaped & wrapped in seconds to any objects you desire. The monopod head, on the other hand, is absolutely robust and provides a stable hold. The mobile phone or camera will always remain in their position and will not shake.
100% Steady
The Supreme Flexible Selfie Stick® holds on to all substrates, surfaces and materials despite its maximum flexibility. Due to its flexibility, it adapts optimally to all objects and "clings" to them. Smooth photos & videos are guaranteed.
At Home:
One often wants to film or photograph oneself in one's own four walls. Maybe you just want to position your mobile phone to watch videos or Skype with friends. With the Flexible Selfie Stick® you are no longer restricted to a specific location. Robust hold wherever and whenever you want - even at home. 
Sport:
From now on you can easily film yourself to check your technique or give others an insight into your workout. With our unique gooseneck technology, it's easier than ever. So, the Flexible Selfie Stick® finds its place everywhere, whether at the goal post, barbell bar or net pillar.
Outdoor:
A lightweight and flexible monopod for on the go? For fantastic shots in the best quality. The Flexible Selfie Stick® is the Selfie Stick that fits in every pocket and backpack and is ready for use in seconds. No matter when, no matter where - the Flexible Selfie Stick® provides a stable hold and smooth shots! Even on objects where a Gorilla pod or tripod fails.
Car:
The smartphone is also increasingly being used in the car. The Flexible Selfie Stick® is ideal as a flexible mobile phone holder. No matter whether you want to have the navigation system in sight or the children in the back seats want to watch a video. A monopod for the mobile phone, whose fields of application are boundless!
---
choosing a selection results in a full page refresh